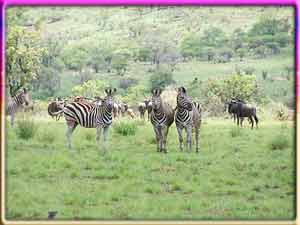 Golden Gate National Park, South Africa: Nestled in the rolling foothills of the Maluti Mountains of the north-eastern Free State lies the Golden Gate Highlands National Park. The park derives its name from the brilliant shades of gold cast by the sun on the park's sandstone cliffs, especially the imposing Brandwag rock, keeping vigil over the main rest camp.
This 11 600 hectares of unique environment is true highland habitat, providing home to a variety of mammals; black wildebeest, eland, blesbok, oribi, springbok and Burchell's zebra - and birds, including the rare bearded vulture (lammergeier) and the equally rare bald ibis, which breed on the ledges in the sandstone cliffs.
Ribbokkop, the highest point in the park, reveals a breathtaking tapestry of red, yellow and purple hues as its warm shades merge with the cool mountain shadows towards evening. Cool highveld summers with the possibility of thunderstorms in the afternoon and cold winters with occasional snow transforming the park into a white wonderland.
Activities include Short nature trails varying from 1 hour to 5 hours (no bookings required), Game viewing at leisure in own vehicles, Guided excursions, night drives, video shows and lectures during school holiday periods. Environmental education courses (varying from 1 to 5 days), Bowls, tennis, table tennis and snooker. Horse-riding during peak periods. Swimming in the natural pool at Glen Reenen.