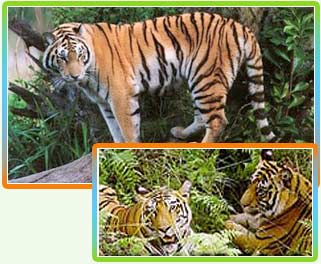 Explore the undiscovered wilds of Uttaranchal via the
Wildlife Tours in Uttaranchal
. Uttaranchal abounds in various rare species of wildlife, which are hard to find somewhere else. Each step that you take in the
Wildlife of Uttaranchal
is full of thrill and adventures. Uttaranchal is a northern state of India, which is located all along the foothills of Shivalik range and the Great Himalayan range. There are various places in Uttaranchal which are yet to be discovered and you can discover them only by taking up a
Wildlife Tour in Uttaranchal
.
Wildlife Tours in Uttaranchal
comprises of a visit to various National parks located in the state. Some of the chief national parks are Jim Corbett National Park, Nanda Devi National Park, Rajaji National Park, Gangotri National Park, Govind National Park, Mussoorie Wildlife Sanctuary, Kedarnath Sanctuary etc. Among all these the Jim Corbett National Park is one of the most well-known national parks located in India. The Park lies at the foothills of the Great Himalayan Range and abounds in wildlife. On your visit to the park, never forget to view the Tiger, which are found here in large numbers.
Through the
Wildlife Tours in Uttaranchal
, you can come across various Himalayan species like Himalayan musk deer, Himalayan tahr, snow leopard, etc. Bird lovers can also view various rare species of birds that include both residential as well as migratory birds. Some of the commonly seen birds are pea fowl, pheasants, woodpeckers, kingfishers, barbets and many more. The time period between the months of November-June is the ideal time for visiting the state of Uttaranchal.

Book your banner now Click Here