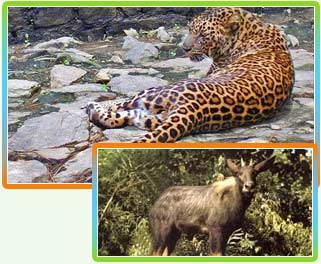 A few places in the world are richly endowed with sheer geographical diversity and one of those places is the
Himachal Pradesh
. It is the place were several thousand meter high peaks are located and which never lose their recurrent snow. Then past these commanding altitudes are the Trans Himalaya's visually stunning cold deserts. Placid mountain lakes, rivers in deep gorges, acres of spree and thick forest, green alpine meadows, mountain sides draped in snow, all this forms a part of this enormous spectrum.
Because of all these features Himachal Pradesh has gained a lot of popularity as well. Another reason which has helped this place gain a lot of popularity is its rich wildlife. The wildlife of the state is one of the richest in India. The thick stretches of forest that are spread over the Himalayas slopes in Himachal Pradesh are a home to innumerous species of fauna and flora. These forests cover 37691 sq km out of the total area of 55760 sq Kms of the state. There are 463 bird species, 64 mammal species, 516 aquatic fauna, 43 reptile species and 3240 plant species the Himachal Pradesh's wildlife is definitely worth its fame. The wildlife of the state reveals a varied eco system for a wildlife enthusiast and endless quest for a romantic tourist and indefatigable trekker.
The actual depth of
Wildlife in Himachal Pradesh
can be seen in its wildlife reserves and national parks. Some of the famous
Wildlife Sanctuaries in Himachal Pradesh
are Simbalbara Sanctuary, Kanwar Sanctuary, Chail Sanctuary, Daranghati Sanctuary, Churdhar Sanctuary, Great Himalayan National Park, Kalatop Khajjiar Sanctuary etc.
So, the wildlife of this state definitely deserves to be seen once, therefore in your next vacations the best plan for you is to go for a
Wildlife Tour of Himachal Pradesh
.

Book your banner now Click Here