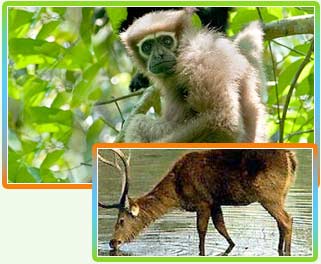 Assam
is Indian's north eastern state with its capital at Dispur, a suburb of the Guwahati city. Assam is popular as the land of blue hills and red river, and is also a gateway to the India's north eastern part. It is located between 24-28 degree north latitude and 90-96 degree east longitude, surrounded by Arunachal Pradesh and Kingdom of Bhutan in north and east. Manipur, Nagaland and Mizoram lie along the south. To the south west is Meghalaya and to the west are Bangladesh and Bengal.
Assam is one of the most famous states of India and is a major boast for Indian tourism. It is popular for various reasons such as its culture, dances, festivals, temples, monuments, etc which attract the attention of a lot of tourists. Besides these, another major attraction for its visitors is the wildlife of the state.
With a huge forest cover, incredible climate, and wide open lands, Assam is the best place for prosperity of wildlife. After the Assam's tea, the unspoiled
Wildlife Parks of Assam
are the most famous. Standing out of the rest, is undoubtedly the Kaziranga National Park which houses maximum number of world's one horned rhinos. According to the latest study, the one horned rhino population in Kaziranga is two third of total population of the world. Most of us are not aware of the fact that this national park also possesses the highest tiger density. Other than these, there is Manas National Park, Orang Wildlife Sanctuary, Pabha or Milroy Sanctuary, Sonai Rupai Wildlife Sanctuary etc. The landscape and the varying climate also help in preservation of different animal species. Assam's climate is also the chief reason of numerous migratory birds getting attracted to this state.
So, the next time you think of taking up a wildlife tour, you exactly know your destination!

Book your banner now Click Here