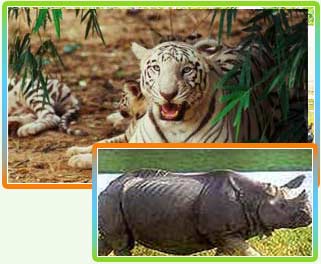 The littoral state of
Orissa
on the east coast of India provides an excellent retreat for those seeking a change from the bored urban life. With its exquisite temples, superb monuments, inviting beaches, enchanting wildlife and natural landscapes, the land of Utkalas is the natural beauty galore attracting throngs of local as well as foreign tourists all throughout the year.
Orissa`s wild life offers a fascinating diversity of terrain, flora and fauna. It is a delight for nature lovers. No enthusiastic traveller or a wildlife lover can ever skip the rich wildlife sanctuaries that are home to some of the most fascinating animals. The national park of the state not only are a wildlife treasure, they are surrounded by some of the most exotic locations, that make a trip to these parks worth. Some of the popular sanctuaries in Orissa include Gahirmatha, Chilka, Sunabeda, Kotagarh, Karlapat and Debrigarh sanctuaries. Orissa is home to a very rich mammalian as well as avifauna wildlife population as the wide variety of environmental factors have given rise to different forest types which create corresponding natural shelter, food etc. to varieties of wildlife. Along with Deer, Sambar, Black Panthers, Tiger, Elephant, Hyena, Wildboar, Porcupine, Reptiles, some of the rare and endangered species of Blackbuck, Blackbuck, Jungle Cat, Hyena, Karanja Lizards, Chameleon and Mangoose have added an superfluous attraction to these sanctuaries.
Go on an elephant safari through the Chilka Wildlife Sanctuary. Catch the rare species of carnivore in his own home, if you can. Lose yourself in a maze of thick woodlands in the Nandankanan. Marvel at the sight of precipitous and sparkling waterfalls. There's no end to the things you can do as a wildlife enthusiast in Orissa.

Book your banner now Click Here