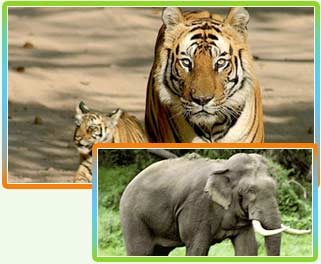 A land of natural beauty, exquisite lyrical poetry and enthusiastic people,
West Bengal
is in its physical form,a complete representation of the Indian sub-continent. For all those who fancy the wild and want to see how man and nature have flourished together then India's number of parks and sanctuaries is the right place for you.
From the northern highlands at the feet of the Himalayas to the tropical forests of Sunderbans, West Bengal is a land of myriad beauty, each region different from the other.This majestic land opens up its natural treasures gradually and selectively, unlike other Indian wildlife destinations. These untouched terrains of wildlife is the ideal destination for nature lovers and wildlife enthusiasts. The state is home to a rich diversity of wildlife supplemented by an equally rich variety of flora and fauna. Numerous Wildlife Sanctuaries, National Parks and Tiger Reserves provide a home for the State's wildlife - tiger, leopards, elephants, rhinoceros, Indian bison, sloth bear, Himalayan black bear, wild boar, salt water crocodile, common langur, rhesus monkeys and colourful birds. Some of the popular sanctuaries and national parks are Jaldapara Wildlife Sanctuary Sunderbans Gorumara Wildlife Sanctuary Mahananda Sanctuary Padmaja Naidu Himalayan Zoological Park and Buxar Tiger Reserve. Among these wild reserves Sundarban is famous as the habitat for its semi-aquatic tigers, popularly known as the Royal Bengal Tiger.
The dazzling expanse of green, the blue heaven overhead meeting the horizon, the playful high tide and the ebb, the very smell of life in the air and the pristine sea beach -- you name it and
West Bengal
is there to capture you with all its precious jewels.

Book your banner now Click Here