Wildlife of India
Wildlife Tours >> Wildlife of India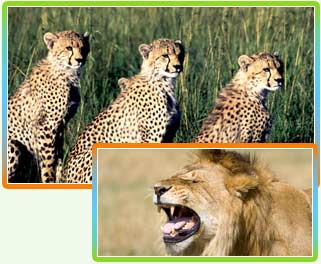 India is the land of diverse cultures and has a very rich culture heritage. India is a sovereign nation, which is located in South Asia. In terms of area, India is reckoned as the 7th largest country. India is the 2nd largest populated country in the world and its population comprises of people belonging to various religions and classes. India is famous for its rich ancient culture that dates back to the Indus valley civilization. India has a very rich historical past, which attracts various tourists towards it. The most important feature that draws people towards India is the Wildlife of India.
In India, one can experience varied type of biodiversity from place to place. Around 4 percent land is covered with forests in India, which comprises of about 482 wildlife sanctuaries and around 90 national parks. In terms of animals, India is reckoned amongst 12 areas of mega diversity around the globe. India is a home to around 12.6% of birds, 7.6% mammals, 6.2% reptiles and about 6% of different species of flowering plants. If one wants to enjoy the untouched beauties of Mother Nature than wildlife of India is the ideal place for such kind of people. Each and every state of India, presents its own specialty in terms of flora as well as fauna.
Discover the Flora of India!
Large areas of India are covered with vast forests that comprises of various species of plants and trees. Some of them are rare species of plants & trees which are hard to find somewhere else except in India. The flora of areas like Andaman & Nicobar Islands, Northeast India and Western Ghats comprises mainly of tropical rainforests. The Himalayan regions are covered with coniferous forests, while the eastern part of India is covered by moist deciduous forests. Some of the important species of trees and plants found here include medicinal neem tree, papal fig tree, teak, sal, babul and many more.
Witness the diverse fauna of India!
India is a home to a wide array of animals that also includes various endangered & rare species. To protect the fauna, Indian government has opened various sanctuaries and has also opened tiger reserves. Some of the animals seen here include tiger, Asiatic lions, peacock, barking deers, hyenas, Indian elephant, Asiatic Cheetah, single horned rhinoceros, pink headed duck, sambar and many more. Various types of reptiles like King cobra, crocodiles, tortoises, python etc. can also be seen here in abundance.
For viewing the above wildlife�s, one can visit any national park or sanctuaries in India. Some of the important national parks of India are Corbett National Park (Uttarkhand), Kaziranga National Park (Assam), Khangchendzonga National Park (Sikkim), Manas National Park (Assam), Ranthambore National Park (Rajasthan) and many more.
A trip to the jungles of India will never be complete until and unless one haven't see the big Bengal Tiger. As the name signifies, these tigers are mostly found in the state of Bengal and its neighboring territories. Bengal tigers are reckoned to be the 2nd largest subspecies after the big Siberian Tiger. Bengal tigers can live in any habitat like grasslands, tropical rainforests, wet and dry deciduous forests, subtropical rainforests, mangroves etc. In today's world, the Specie of Bengal tigers is in danger of being extinct and thus various national parks and sanctuaries have been set up to protect this specie. So if one wants to have a view of this great specie then one have to visit any such park or sanctuary. In India, the Sariska Tiger Reserve located in Rajasthan is the chief residing place of the Bengal tigers. One can also visit other places like Corbett National park, Manas National Park, Ranthambore National Park etc. and view this great Indian predator.
The best way to make one's wildlife trip unforgettable is by viewing the Great Indian Rhinoceros. The Indian Rhinoceros also known as Asian One-horned Rhinoceros or the Great One-horned Rhinoceros is a large animal found in the state of Assam, India. The India Rhino mainly lives in tall grasslands and forests in foothills of Himalayas. One would be surprised to know that instead of its heavy body; still the Indian Rhinoceros can run at a speed of more than 25 mph and can even swim. The Indian Rhino differs from its African counterparts in the fact that the Indian Rhino have a single horn as compared to the two horns of the African Rhino. Kaziranga National Park and Manas National Park located in Assam are the best places in India for viewing the Indian Rhino in its natural habitat. Elephant safari is the best medium for viewing the Indian Rhino from a close range. One can also visit various Zoos in India that shelters the Indian Rhino.
A wildlife tour in India can't be complete unless one pays a visit to the King of the jungle i.e. The Asiatic Lion. Asiatic Lion also known as Persian Lion is the sub-specie of Lion and is found only in India. Earlier, these lions were found in the whole of Southwest Asia but with the passage of time only a small population survives. Asiatic Lions are attracting a large number of foreign as well as local tourists to India. If one wants to see the Asiatic Lion in its natural habitat then one have to visit the Gir national Park located in the state of Rajasthan, India. Other than that one cannot find the Asiatic Lion anywhere except the Zoos. According to stats only 350 Asiatic Lions reside in the Gir National Park. Asiatic Lion like living in scrub and open deciduous forest habitats. The best way of viewing the Asiatic Lions is via the jeep safari.
Indian elephants are one of the 19 species of Asian elephants and are found in large numbers in India. They mainly live in scrub forested areas but their habitat changes from time to time. They do not stay in one place and tend to travel from place to place in search of food and water. Indian elephants are gray in color and have spots all over the body. Indian elephants have turned out to be a major attraction of all the foreign and local tourists, who visit the Indian forests. In recent times, Indian elephants are facing danger from poachers, who hunt them for their tusks. The Indian Government has set up various wildlife sanctuaries and national parks so as to protect the Indian elephants. One can view herds of Indian elephant in various parks like Corbett National Park, Kaziranga National Park, Periyar Wildlife Sanctuary, Bandhavgadh National Park and many more. The best way of viewing a herd of elephant is by joining an elephant safari and thus viewing the wild Indian elephants from a close range.
Wildlife of India Tour Packages