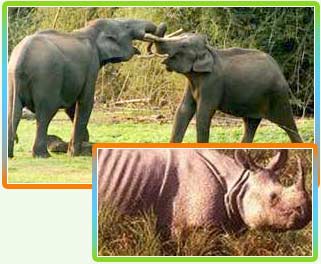 Karnataka
is one of the well-known states located in the southern part of India. The state is famous for numerous reasons which cannot be unfolded altogether. To mention a few, its heritage, its natural treasures, beaches, adventure etc have always gained the interest of people from all over the world. Other than these, one of the most famous reasons for its charisma is the exotic range of wildlife it holds.
Karnataka's wildlife and forests are her invaluable natural heritage. From the scrub jungles of the plains to magnificent evergreen forests of Western Ghats, a diverse variety of flora and fauna can be found over here. The
Wildlife of Karnataka
allures so many people from all over the globe that there has been a boom in the Karnataka tourism.
Wildlife Tours to Karnataka
have become really famous and are taken up by all to infuse thrill and excitement in their lives.
Karnataka's wildlife encompasses of thousands of mammals, birds, reptiles, insects etc which also include the endangered species. There are various
Wildlife Sanctuaries and National Parks in Karnataka
bestowed with the rich treasure of its wildlife. Some of the notable wildlife sanctuaries and national parks comprise of B.R. Hills Wildlife Sanctuary where Chitals and Gaurs are the chief attractions, Bhadra Wildlife Sanctuary where barking deers and Great Indian gaurs are the highlights.
There also is Dandeli Kali Wildlife Sanctuary, Karnataka's largest wildlife sanctuary, known for its crocodiles. Then, there is Ranganthittu Bird Sanctuary, Bheemeshwari Wildlife Sanctuary where you can enjoy angling & fishing camps and the Nagarhole and Bandipur National Park.
Therefore, Karnataka has a lot in store for the wildlife lovers and offers great opportunities for exploring wildlife. So, the next time call of wild beckons you, just pack your bags and head straight towards Karnataka!

Book your banner now Click Here