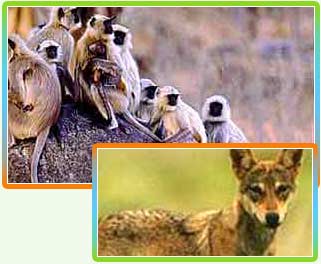 Often reffered to as the `Heart of India`, the state of
Madhya Pradesh
is stretched over a range of ecosystems that are home to a large amount of species of unique plants and special animals. If you've ever dreamed of exploring the wilderness of the dark, mysterious forests, walking among pristine woodlands, or experiencing the cultures of the high Satpura and Vindhya mountains and investigating the ruins of the pre-historic cultures of the Gonds, then the state of Madhya Pradesh is the perfect abode for you.
The relative lack of human disturbance and the open nature of the habitat mean that wildlife is often easier to observe than elsewhere in the country.Having almost a third of India's forest reserves, the state is rich with some of the finest deciduous hard woods in the world. Spectacular mountain ranges, dense thick forests offer a unique abode for the wildlife in herbaceous environment. Popularly known as the `Tiger State`, the state is recognized for having maximum population of Tigers in the country and some 250 species of birds. Some of the famous national parks like Bandhavgarh National park, Kanha national park and panna national park is home to several rare species of Sambar, Nilgai, Blackbuck, Sloth Bear, Chausingha or four-horned Antelope, Leopard, striped Hyaena, common Langur, Jackal, Wild Boar, Jungle Cat, Crocodile and others.
So experience up close the cries of the colorful wildlife, the lush smell of the dry deciduous forest, countless flowers and towering trees. Thrill to the sight of cheerful birds. Marvel at the incredible sight of overwhelming wealyh of plants, iridescent butterflies of astounding colors and captivating monkeys, lost cultures and living cultures destinations that will awe and inspire.

Book your banner now Click Here